Best Cambodia Islands

Cambodia islands are often underated compared to its astonishing Angkor hertiage. Even on tourism radar, it is less visible than the islands of Phu Quoc or Phuket. However, there are still alot from sandy beach to pristine waters to soak up. For a holiday to Cambodia, these top sun-kissed islands should be in your list:
Encircled by miles of dense jungles and pristine white sand beaches, Koh Rong is a transcendent spot for those who wish to bake on the beach during the day and enjoy the vibrant bar life at night. On Tuesdays and Fridays, there are island pub crawls, but the most engaging thing for travelers are all-night parties on Police beach.
If you are after these parties, expect to be part of it either on Wednesdays, Saturdays or the full moon days.
With its 24-villa resort, Song Saa offers the best exclusive island experience in Cambodia. It is situated just off the coast of Koh Rong. Part of its area is occupied by the 50000 square meters marine reserve, a great conservation area for lovers of marine life.
Song Saa is ideal for those who fancy luxury atmospheres and their all-inclusive package include champagne, transfers from the shores, free international calls and luscious meals made from locally sourced foods.
Songsaa can be a perfect competition for any Vietnam Islands that provides ultimate leisure ambience.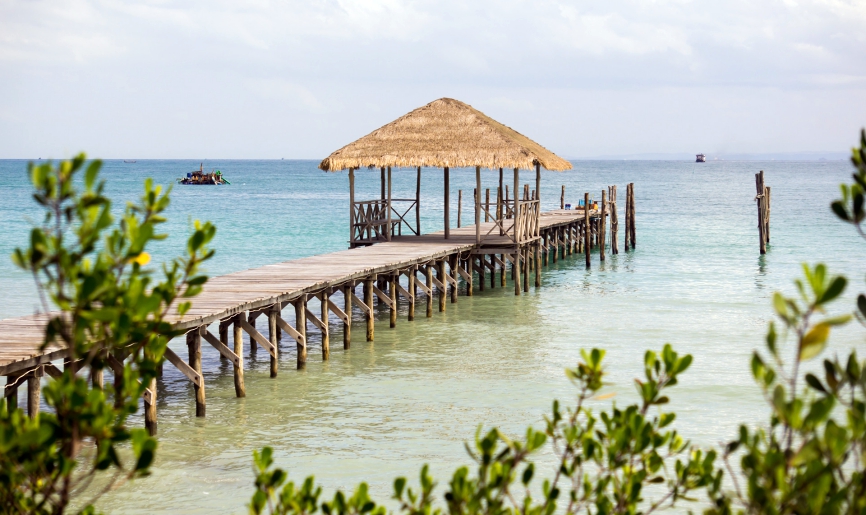 Photo: Michael Ranzau
Located on Saracen Bay, Koh Rong Sanloem is defined as a heart-shaped inlet with unspoiled sandy beaches and calm turquoise waters. This laid back locality consists of several resorts that feature various accommodation facilities starting from simple wooden bungalows to deluxe air-conditioned villas.
Adding to the tranquil atmosphere, Koh Rong treats visitors with many active adventures, including Snorkeling, paddle boarding to name but a few.
If nature is your thing, Koh Thmei is the ablest place for you to start in Cambodia. It is located in Ream National Park and plays host to diverse wildlife species such as civets, fishing cats, feline and over 100 different bird species. The list of activities to make your days at the island bear Snorkeling, two-person sea kayaks, bird watching and hiking.
One of the last tropical paradise in Cambodia, Koh Ta Keiv offers a remarkable locale to immerse yourself into Cambodia's amazing nature vibes. Therefore it's no surprise that visitors enjoy the calm and quiet atmosphere at night. Some of the activities to keep you excited at this noisy free locality are jungle walks, snorkeling and beachcombing.
For those who seek for Cambodia Islands to cut off, do not hesitate to go to Koh Tatang. This charming island is just filled with nature, free from noise and completely disconnected from the internet and electricity. Other than beachcombing, you can spend the day lying in a hammock while savoring the unending views of the encompassing scenery.

Koh Tang is a dream destination for fans of diving. This island stars eight notable diving sites that offer coral reefs and a myriad of underwater creatures such as poisonous pufferfish, captivating stingrays and beautifully colored nudibranchs.