Halong bay cruises

Embark on a journey of unparalleled extravagance with our selection of the top 10 most expensive cruises in Ha Long Bay. These remarkable voyages redefine luxury, offering unrivaled comfort, personalized service, and awe-inspiring vistas. From sumptuous accommodations to gourmet dining and exclusive experiences, each cruise promises an unforgettable escape in the breathtaking backdrop of Ha Long Bay. Indulge in opulent amenities, unwind on private decks, and immerse yourself in the beauty of this UNESCO World Heritage Site. Get ready to set sail on a once-in-a-lifetime adventure where every moment is crafted to exceed your highest expectations.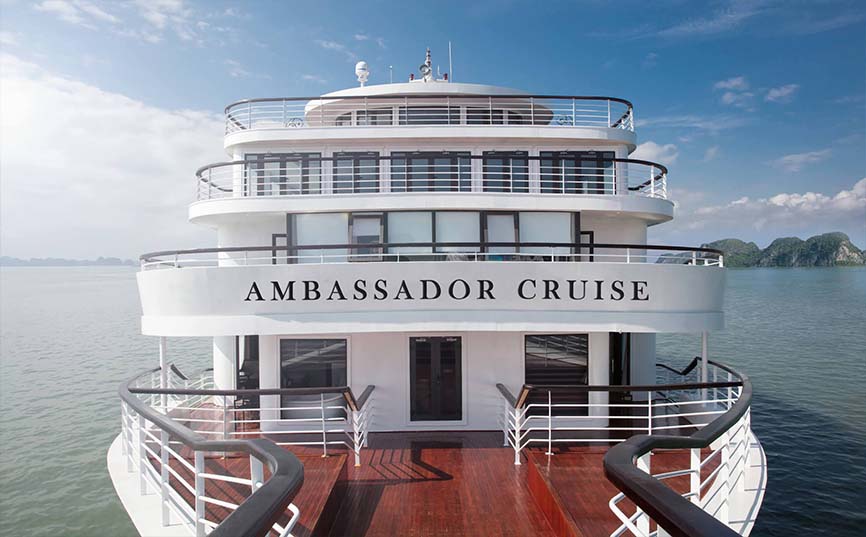 Photo source: Ambassador Cruise website
This prestigious and expansive vessel sets the standard for opulence, offering a truly remarkable experience amidst the stunning natural beauty of Ha Long Bay. From its spacious and luxurious accommodations to its world-class amenities, the Ambassador Cruise ensures a journey of unparalleled comfort and sophistication. Immerse yourself in the awe-inspiring vistas of limestone formations, partake in extraordinary activities, and savor exquisite cuisine prepared by talented chefs. Every moment on board is crafted to provide an unforgettable escape, where impeccable service and attention to detail create a seamless and extraordinary voyage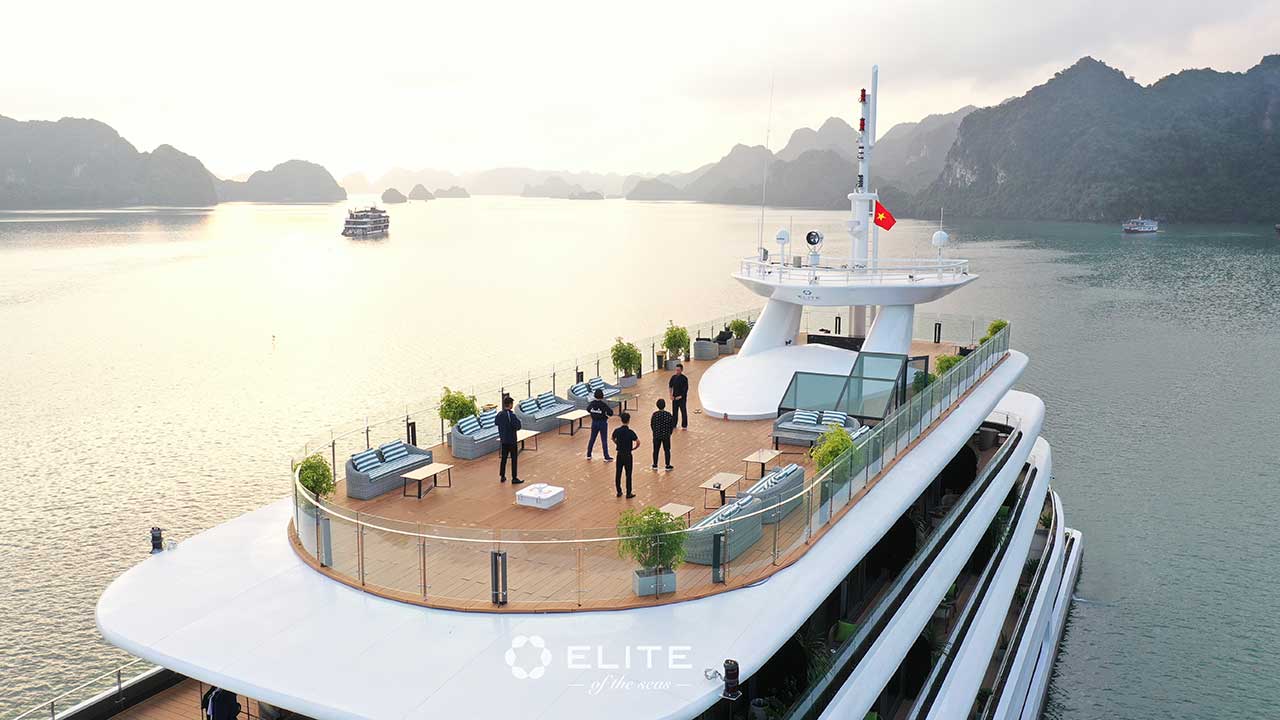 Photo source: Elite Cruise website
The Elite of the Seas cruise is a testament to contemporary luxury and quintessential style. Drawing inspiration from its sister ship, the Stellar of the Seas, it sets itself apart as a unique and exceptional experience in Ha Long - Lan Ha Bay. Meticulously designed itineraries, an exquisite and abundant menu, professional service, and a highly trained staff ensure that guests aboard the Elite of the Seas are treated to an unforgettable journey. With thirty-five elegantly spacious rooms, including fine dining restaurants, indoor and outdoor bars, a wine and cigars cellar, a mini-golf course, a year-round large swimming pool, a sauna spa & massage, a fitness room, and a dedicated children's playroom, the cruise offers the epitome of comfort and indulgence. Choose the Elite of the Seas for a truly perfect and unparalleled voyage.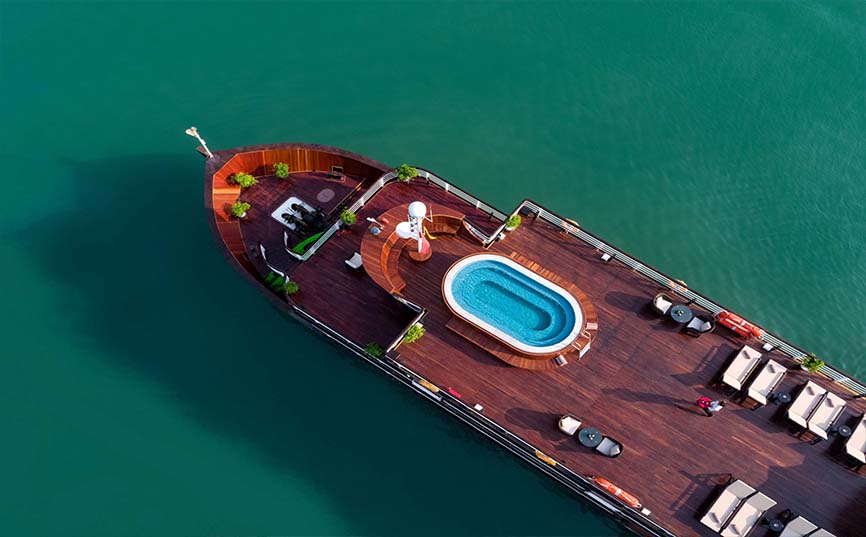 Photo source: Orchid premium Cruise website
Experience the wonders of Halong Bay - Lan Ha Bay - Cat Ba Island with Orchid Cruises, the epitome of premium cruising. Delight in the exquisite offerings of our fleet, featuring the Premium, Classic, and Trendy boats. Immerse yourself in a journey that combines sublime landscapes with top-notch services and the finest Vietnamese cuisine. Let Orchid Cruises be your guide to discovering the heart and charm of this enchanting UNESCO World Heritage Site. Prepare to embark on an extraordinary voyage of luxury, indulgence, and unforgettable memories with Orchid Cruises.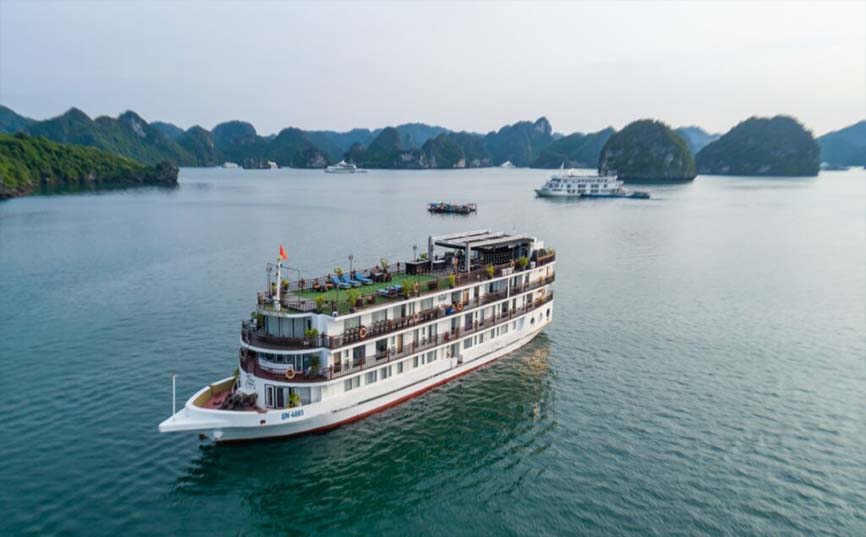 Photo source: Amanda Cruise website
Introducing the Amanda Cruise, the first and only 5-star cruise ship in Ha Long Bay to offer a captivating 2-day-1-night itinerary. Prepare to embark on a journey of discovery as you explore unspoiled gems like Surprise Cave and Trinh Nu Beach along the longest and most beautiful route in Ha Long Bay. With its modern design infused with delicate classic styling inspired by European ships, the Amanda Cruise stands as a true epitome of harmony, luxury, and charm. Experience the allure of this remarkable vessel as it gracefully blends elegance and sophistication, creating an enchanting ambiance that captivates all who step aboard. Let the Amanda Cruise be your gateway to an extraordinary voyage of unrivaled beauty and indulgence.
Photo source: Violet Cruise website
Presenting Violet, the most enchanting luxury vessel in Heritage Line's fleet, meticulously designed with a captivating French-Indochinese flair. Step aboard this art-deco masterpiece, where gleaming wooden floors, lavish silks, velvets, and carefully curated artifacts exude an atmosphere of refined opulence. Uniquely gracing the tranquil waters of Halong Bay in the Gulf of Tonkin, Violet offers an unparalleled level of privacy and exclusivity for its esteemed guests.
With just six luminous and generously appointed suites, each boasting its own distinctive and awe-inspiring interior, Violet caters to the most discerning travelers seeking romantic retreats, revitalizing cruises, or intimate private sailings. Indulge in the utmost luxury as you revel in the lavish amenities and delight in the serenity of your private balcony.
Embarking on a voyage through the breathtaking beauty of Halong Bay aboard this exceptional boutique ship guarantees an unforgettable experience, whether you seek solitude as an individual, desire a romantic escapade with your loved one, or wish to create cherished memories with a close-knit group. Allow Violet to sweep you away on an extraordinary journey, where elegance, tranquility, and sophistication converge to create moments of pure enchantment.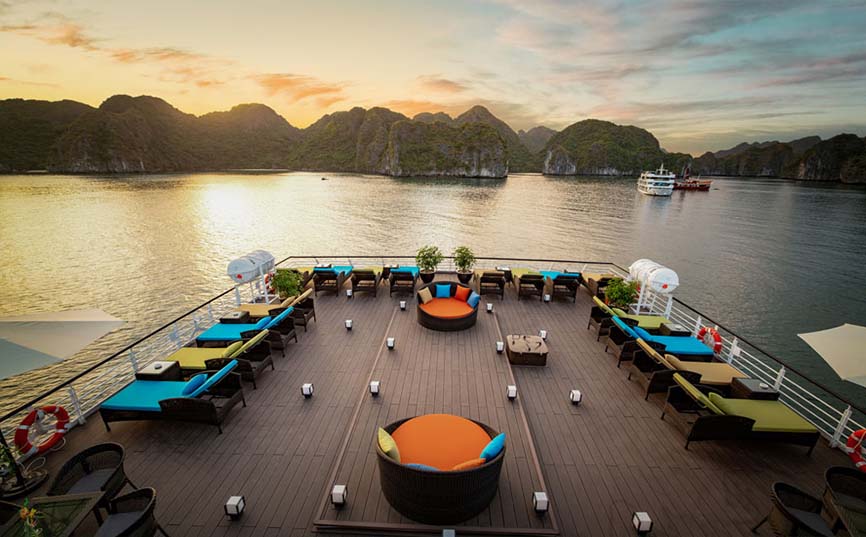 Photo source: Stellar of the Seas Cruise website
Stellar of the Seas cruise is highly recommended for an exceptional and unforgettable experience in Halong Bay. With luxurious accommodations, attentive service, and a carefully curated itinerary, this cruise promises a journey of pure indulgence. Explore the breathtaking landscapes, savor delectable dining options, and enjoy the personalized attention of the dedicated crew. Embark on a remarkable voyage with Stellar of the Seas and create lasting memories in this magnificent UNESCO World Heritage Site.
Escape to the enchanting beauty of Ha Long Bay with La Casta Regal Cruise. Discover the pinnacle of luxury and adventure as you sail through pristine waters and marvel at the awe-inspiring limestone formations. Immerse yourself in the exquisite comforts of their meticulously designed cabins, indulge in tantalizing cuisine, and embark on unforgettable excursions. Experience Ha Long Bay like never before with La Casta Regal Cruise – a truly extraordinary journey awaits. Visit lacastacruise.com to begin your unforgettable voyage.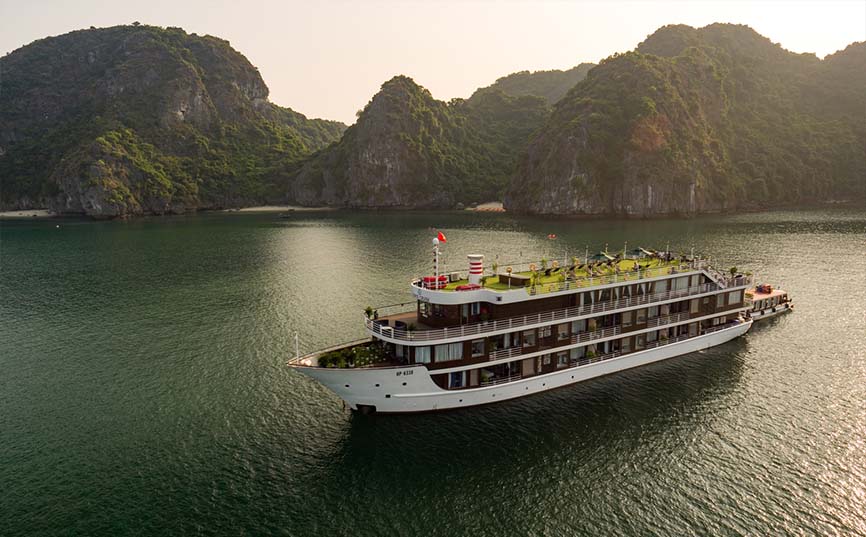 Introducing Scarlet Pearl Cruises on Halong Bay, where we create unforgettable moments through natural exploration and local cultural immersion. Enjoy luxurious accommodations, themed suites, smart control systems, and eco-friendly amenities. Indulge in Akoya Spa, Tahiti restaurant, and Bar Bistro. Relax on the sundeck with Jacuzzi and private fitness center. Experience the Pearl Museum showcasing exquisite pearls. Explore Halong Bay on our exclusive Catamaran Sailboat. With a dedicated crew, D-Car transfers, and a commitment to preservation, Scarlet Pearl Cruises offers a remarkable journey.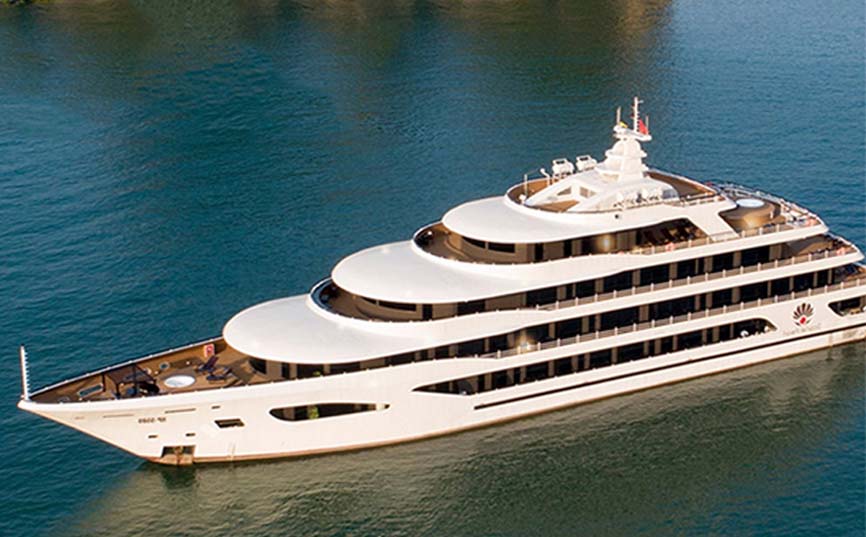 Unleash your sense of adventure and experience pure luxury with Capella Cruise. Named after the brightest northern star, this extraordinary voyage through Halong and Lan Ha Bay will leave you spellbound. Immerse yourself in pristine beaches, marvel at breathtaking caves, and explore the untouched beauty of lush islands. Capella Cruise guarantees an unforgettable journey where excitement, opulence, and natural wonders collide. Prepare to be captivated and create lasting memories aboard Capella Cruise, where extraordinary experiences await.
Discover a world of opulence in one of the 22 luxurious rooms, each featuring private balconies and Jacuzzi tubs. Alisa Premier Cruise stands out from the rest with its modern amenities, including satellite TV, a rare feature found only on select small cruises.
Unwind and indulge in high-class facilities such as the panoramic restaurant offering mesmerizing views, an outdoor bar, a seasonal swimming pool, a state-of-the-art gym, and a rejuvenating beauty spa & massage center. Children are also catered to with a dedicated playground, ensuring a memorable experience for the whole family.