Top Things to do in Dalat

Dalat is an intriguing hill station that offers various adventures from waterfall canyoning to mountain hiking. It is also known as one of the most famous places to seek your own romance with its beautiful settings. For whatever reason drawing you to Dalat, you`ll love to explore its unique nature and fascinating local cultures. To start your travel plan, let`s have a look at the top things to do in Dalat:
Best things to do in Dalat for nature enthusiasts

From misty mountains to picturesque valleys, from cascading waterfalls to postcard-perfect lakes, Dalat has everything to tempt your visit.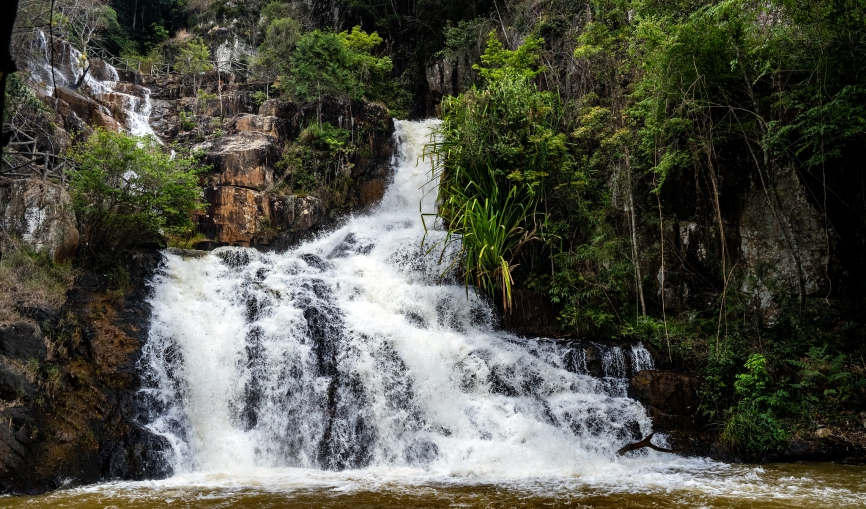 Photo Credit: Eric Franqui
See Elephant Waterfall
Elephant Waterfalls, also known as Thac Voi, pose a challenge when it comes to accessing this attraction in Dalat. These falls truly embody their name, resembling the majestic head of an elephant.
The sheer volume of water cascading down the cliffside is a breathtaking spectacle. If you're not into canyoning but still want to witness the beauty of waterfalls in Dalat, Elephant Falls is an excellent choice.
To reach the falls, some hiking is necessary, making sturdy footwear a must. Whether you opt for a car, motorbike, or city bus, you shouldn't miss the opportunity to visit this remarkable attraction in Dalat.

Pongour Falls
Pongour Falls, undeniably one of the most breathtaking waterfalls in the province, consistently ranks high on the list of must-visit attractions in Dalat. Many visitors prefer Pongour Falls over other waterfalls in the vicinity due to its well-maintained cleanliness, absence of peculiar statues as decorations, and lack of cable cars or alpine slides. As a result, Pongour Waterfall stands as one of the few areas in Dalat where you can genuinely appreciate the natural beauty of the landscape without the gimmicky touristy elements often accompanying it. Composed of multiple layers or tiers, the waterfall showcases a mesmerizing cascade of water. Climbing the rocky ledges offers visitors an opportunity to capture a few memorable photos.
Admire Dantanla Waterfall
Another site in the list of Dalat Waterfalls that you should not miss is Dantanla.
The resounding roar of these falls originates from their multi-tiered cascades, culminating in crystal-clear pools unless it's monsoon season. Dantanla Waterfalls present an ideal setting for capturing breathtaking photographs and immersing oneself in the awe-inspiring beauty of nature in the region. Despite the falls' pristine allure, the surrounding area boasts other tourist attractions worth exploring.
Adventurous souls visit the falls to experience the exhilarating alpine coaster ride down the hill or take a cable car to the summit.
Moreover, there are opportunities to don traditional local attire for a charming photo session.
Located just a few miles from downtown Dalat, the falls are conveniently accessible via the city bus network.
Climb Lang Biang Mountain
For those seeking an alternative to cliff jumping and waterfall rappelling, a visit to Land Biang Mountain is highly recommended. This picturesque vantage point offers a mesmerizing perspective of the extraordinary beauty found in the Vietnamese highlands. Perched at an elevation of over 7,000 feet above sea level, the summit unveils a breathtaking panorama that extends beyond fields of vibrant wildflowers. The expansive view captures the majestic peaks of distant mountains, which seemingly blend into the horizon, creating a captivating sight to behold.

Dalat Attractions for Culture Explorers
Your trip to Dalat is incomplete without seeing these iconic sites of Dalat:
Have a look at Bao Dai Summer Palace
King Bao Dai's Summer Palace presents a wonderful option for a glimpse of Dalat history. The interior decor exudes a nostalgic retro charm, and it's quite amusing to contemplate that this palace was once considered the epitome of luxury.
Upon entering, you'll be required to wear foot covers to protect the floors, after which you'll have the freedom to explore every room on both floors. Towards the back, there is a small souvenir room where you can choose to dress up in traditional royal clothing for a photo, adding a lighthearted touch to your visit.
Be amazed by Dalat Crazy house
The Crazy House stands out as undeniably the most renowned tourist attraction in Dalat, and it's an absolute must-visit during your trip.
This unconventional private residence offers reasonably priced hotel rooms or the option to pay a small fee and freely wander and explore at your own pace. The construction of this unique house began in 1990 and has been continuously expanding under the ownership of Mrs. Dang Viet Nga.
True to its name, the Crazy House boasts an eccentric architectural style. Thin bridges adorned with handrails resembling vines connect the buildings, which appear as if they are melting. Navigating this attraction requires ascending steep stairs and maneuvering through narrow spaces, making it less suitable for young children.

Visit Linh Phuoc Pagoda
Linh Phuoc Pagoda is a famous religious attraction in Dalat. The intricate tilework that adorns the entire pagoda sets it apart from the majority of temples found in the country.
Ascend the stairs of the pagoda to reach the second floor, where you will encounter a colossal wooden Buddha statue and enjoy a pleasant view of the temple situated across the parking lot. Exploring the entire pagoda won't take up much of your time, but if you have an interest in Buddhist temples, this one is definitely worth a visit.

Take a short walk in Dalat Flower Park
The Dalat Flower Garden, also known as Dalat Flower Park, encompasses a multitude of gardens along the shores of Ho Xuan Huong Lake, showcasing an impressive collection of over 300 native and exotic flowers.
When the sun is shining in Dalat, this is the ideal destination to immerse yourself in the outdoors. Everywhere you look, vibrant and colorful flowers greet your gaze, while designated areas offer opportunities to relax, enjoy a refreshing beverage, and grab a snack.
If you happen to visit Dalat during the Spring Flower Fair or the Winter Flower Festival, which take place every two years, the Dalat Flower Garden is among the exclusive venues participating in these events. This period undoubtedly represents the optimal time to explore the gardens and witness their unparalleled beauty.

Take a cable car to Truc Lam Pagoda and Monastery
For a delightful afternoon activity that offers splendid views of Dalat on a clear day, the Dalat Cable Car is an excellent choice. The ride is relatively brief, and upon reaching the top, you'll have the opportunity to explore the Truc Lam Pagoda and Monastery. The Truc Lam Pagoda itself is charming, but the true highlight lies in the enchanting gardens surrounding it, adorned with beautiful bonsai trees scattered across the hilltop. It's a serene and tranquil place to wander around for a while. Once you've had your fill, you can descend all the way to the lake by taking the stairs. Upon reaching the lake, be sure to savor the breathtaking view from The Seen House—it's an experience you won't want to miss!
Best things to do in Dalat for adventure-seekers

Adventure-minded travelers may find Dalat has more fun than many other travel sites in central Vietnam. Many of these thrilling experiences can be done almost year round:
Stay at the back of an " Easy Rider Dalat" Tour
This type of motorbike tours is attractive enough to make your time in Dalat. It brings so much fun as you scan the mountain sides, seeing the life out of the tourist map. With a tour guide, also your driver, there are chances to see different local plantation including coffee, vegetable or flowers. There is no better chances to enjoy the " real Dalat" than taking such tour.
Fancy a longer ride? do not hesitate to contact Dalat Easy rider for a trip downhill to Mui Ne beach or Hoi An ancient town which ranges from 2 to 6 days. For thrill-seekers in search of an adrenaline rush, canyoning should be at the top of your priority list.
Try a Waterfall Canyoning
Dalat is arguably the best place to try canyoing in Vietnam. Partly because, it has many falls and forest to do so. Another reason is the local tour operators are very well-trained.
Prepare for an unforgettable day as you abseil down towering cliffs, including a magnificent 25-meter high waterfall, the largest in the area. You'll also have the opportunity to slide down natural waterslides, take daring cliff jumps, and even enjoy a meal with a local family.
Fortunately, there is no shortage of canyoning tour options available in Dalat, ensuring that you can find the perfect adventure to suit your preferences.

Do Mountain Biking
Dalat is a true haven for mountain biking enthusiasts, offering a paradise of thrilling adventures. From exhilarating single-track trails to challenging technical descents and exhilarating mountain climbs, this destination caters to all levels of mountain bikers. Once you conquer the peaks, you'll be rewarded with awe-inspiring vistas of sprawling fields, lush forests, and majestic mountains. Engaging in mountain biking in Dalat not only ranks among the top activities to partake in but also presents an exceptional opportunity to explore the region's natural beauty in a thrilling and invigorating manner.
Dalat Travel Guide 2023 - 2024
Some of the most practice guides for Dalat Travel is here.
How to get to Dalat
Flights to Dalat
Vietnam Airlines, VietJet Air, and Jetstar offer frequent flights to various destinations. For instance, there is a daily service to Danang with a flight duration of approximately 1¼ hours. Additionally, there are four daily flights to both Hanoi and HCMC, taking approximately 1¾ hours and 45 minutes respectively. Furthermore, flights to Can Tho are available twice a week, with a travel time of around 1¼ hours.