Top Photogenic Instagram Spots in Vietnam

Vietnam is photogenic and camera-catching. Whether your travel is to find the most photogenic sites or soak up in the post-card perfect sceneries, Vietnam has something to draw you.
Here comes our list for top instagram spots from north to south Vietnam:
Ban Gioc Waterfall, Cao Bang
Tucked away in the far north Vietnam, Ban Gioc waterafll is not only the natural wonder but also the border line between Vietnam and China.
If you want to travel off beaten path and hunt for the magnificent photos for your instagram account, you should not miss this attraction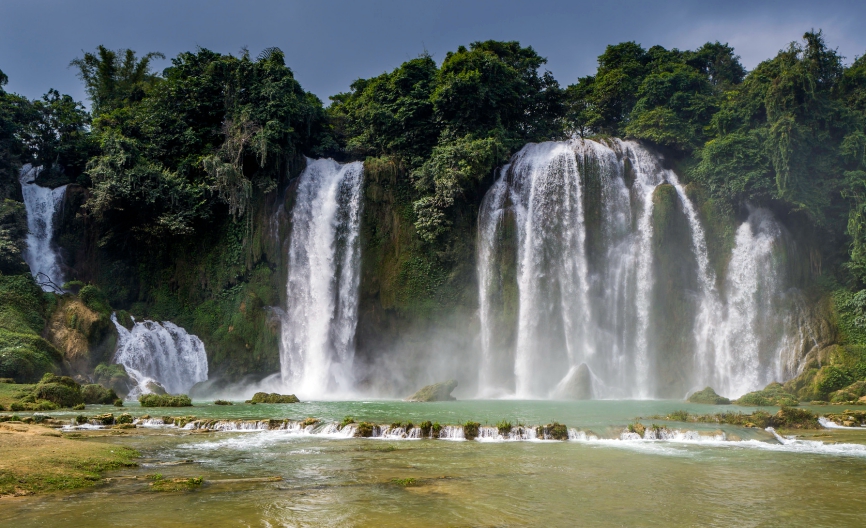 Photographer: Hoang Tuan
Ta Xua, Son La
Ta Xua is a trendy destination for Vietnamese instagramers but not popular for tourist. It doesn`t mean it is lack of charm. This mountainous site provides incredible frame for a perfect portrait, especially in the morning when all the clouds are under your feet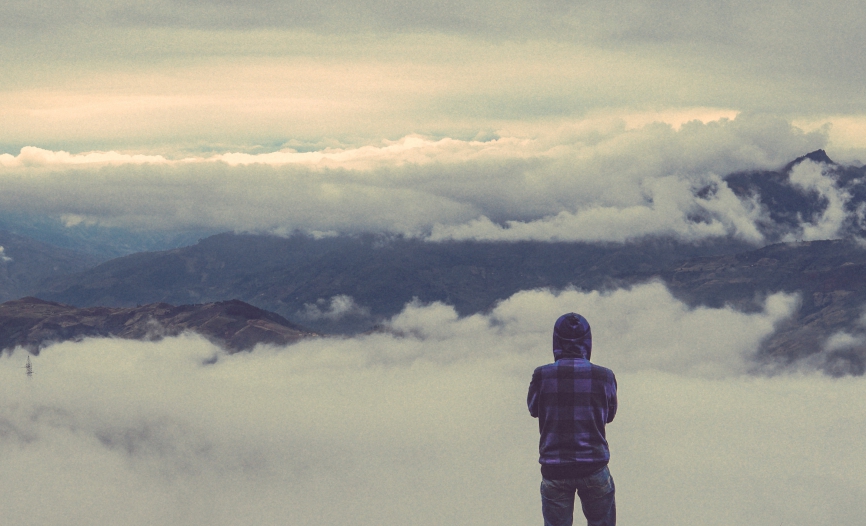 Photo: Linh Pham
Rice Terrace, Mu Cang Chai
This is not only the favorite travel destination for bloggers but also the professional photographers. Mu Cang Chai rice terrace attracts all the camera`s lens for its picturesque landscapes formed by cascading layers of rice paddies backdroped by the lush mountains.
The best time to capture the beauty of Mu Cang Chai is from May to October. Depends on your travel time, you can have different angles of the rice season: water pouring, green season or harvest season.
Fansipan Mountain, Sapa
Known as the highest mountain in Vietnam, it is undoubt that Fansipan offers amazing views for any instagram post. For those who expect a challenging Sapa trek, a 3 days hike through primitive forest reveals the rich flora and fauna of this beautiful national park while if you just have 1 day then taking a cable ride to its peak is a good choice.
Lotte Tower - Hanoi
Lotte is inclusive of the tallest skyscrapers that tower the sparkling Hanoi city. With its glass-bottom sections, Lotte tower is undeniably photogenic. You can take a lot of pretty photos with a backdrop of skies, mirror reflections and Hanoi cityscapes. At night the city is glittering, and this can be a striking view to marvel.
Mua Caves ,Ninh Binh
To list some of the best Instagram spots in Vietnam, Ninh Binh can't be missed. It is just two hours' drive to the south of Hanoi. This city in the northern part of the country has a picturesque setting that consists of streaming rivers, remarkable rice paddies and dramatic limestone mountains. Other than that, trippers are tempted by the magnificent Mua Caves. This cave has two spectacular viewpoints you can reach after ascending a series of steps. The 15-minute hike is rewarding and leads you to the first point of view - you will not stop admiring the scenic views of the vast landscapes.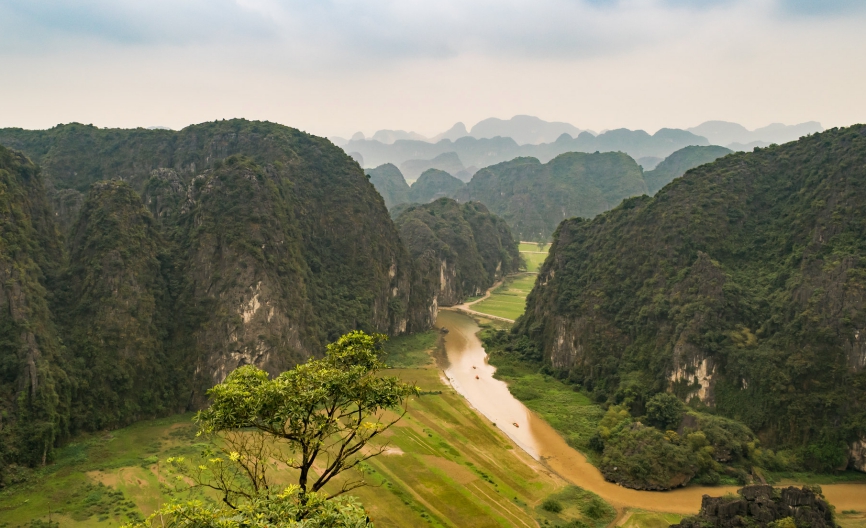 Bich Dong Pagoda , Ninh Binh
Hidden at the far end of Tam Coc village, Bich Dong Pagoda is close to the notable Mua Caves. When combined, they make up the top highlights for trips to Ninh Binh. Travelers can be amazed by the Pagoda's stirring grandeur and lush Jungles that gird it. It is better you plan a visit in summer or spring. During this period the all place is peaceful and serene. You will love the setting.
Ngu Lam Peak, Cat Ba Island
Cat Ba Island is endowed with lots of things to explore, but for instagramers, hiking to Ngu Lam Peak is the main highlight. You can reach this peak by a trek via the Kim Giao forest trail. The walk is short, takes about two hours and awards bird's eye views across the dense jungles.
Halong Bay
With certainty, Halong Bay is among the most appealing places to visit in Vietnam. It is girdled by a range of striking scenery. You can pose for some engaging photos from this natural wonder of the World. An overnight cruise offers sunset views of luxuriant Jungles and limestone karsts that dot the area.
The photos are different when you take a Halong Cruise with stops to islands or tour the major attractions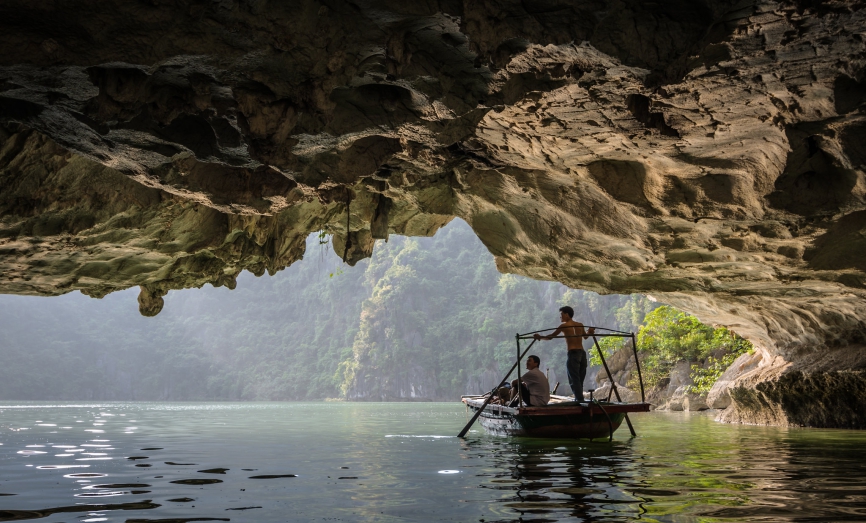 Photo: Brian Hammonds
Mooc Springs, Phong Nha National Park
Set just off the main area, Mooc Springs is one of the must-sees in Phong Nha. It differs itself from other springs with its tranquil setting and dazzling blue waters. Aside from relishing numerous water sports like kayaking, swimming, you will spot varied exotic animals like Gibbons that call this area home.
The abandoned water park, Hue
Ho Thuy Tien or the abandoned water park; has everything to lure Instagram addicts including the dragon's head. This Park is just eight kilometers out of Hue city Centre. There are several ways to get there, but a motorbike ride is worthwhile. From the front gate, it takes about 10 minutes for the drive up to the dragon, one of the prettiest statues to beautify your photos.
Phong Nha National Park
Phong Nha is truly inspiring for its World`s largest Cave - Son Doong. However, if you expect a stunning instagram post, Phong Nha has so many photogenic spots to offer. From Son river boat trip to secluded village panorama, from lush jungle to the picturesque valleys, the national park is really tempting for photographers.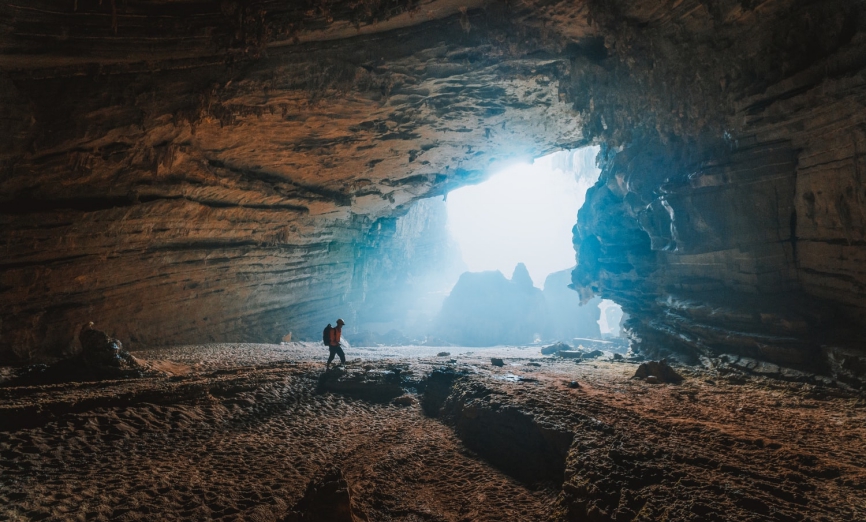 Photographer: Le Tan
Hai Van Pass, Da Nang
After being featured amongst top coastal roads, the Hai Van pass is a favorite spot for Instagrammers visiting Da Nang. The most eye-catching part along this route is the halfway point close to Da Nang, the area is lined by multiple food and drink stalls together with the scenic rocks. Out of all rocks, travelers like the main rock with its staircases and the white rock.
Marble Mountains, Da Nang
Da Nang has no shortages of draws ; travelers can immerse a handful of sceneries, including the Marble Mountains, one of the ultimate Instagram spots in Vietnam. This mountain with a cluster of five hills will treat you with several wonders such as the tunnels, peaks, pretty temples and caves. Within the caves like Huyen Khong, there is a peerless background that can turn your photos prodigious.
The night market, Hoi An
Hoi An is a prominent city in Vietnam; most travelers appreciate its beauty and setting. The appealing elegance is enhanced by hundreds of multi-colored lanterns that hang around the town streets. With this, there is no way it can miss the list of top Vietnam Instagram spots. If you are after this, these decorative pieces are common in the night markets. You will like the winning shots with a backcloth of winsome lanterns.
Golden Bridge, Ba Na Hills - Da Nang.
The Golden Bridge is hard to ignore if you are exploring Vietnam's top enthralling spots. Its extreme location on the top of a mountain, just outside Da Nang confers spectacular views across lowlands, sea and Da Nang cityscapes.
The rooftop cafe in Hoi An
There is no better way to take in sweeping views of the Hoi An city than from a rooftop café. One of the best locales is Faifo Coffee in the heart of the Old Town. This property features a rooftop terrace that grants endless amazeballs views, this qualifies it among top Instagram places to visit in Vietnam.
Buddha`s Hand, Dalat
Not so many people know about this place in the hill station of Dalat. While travelers flocks into the famous sites like Xuan Huong lake, old train station, Buddha`s hand is a good shooting site to admire the green forest of the area. The site is located in Hoa Dien Son Trang Eco tourism site, about 3km from Dalat City.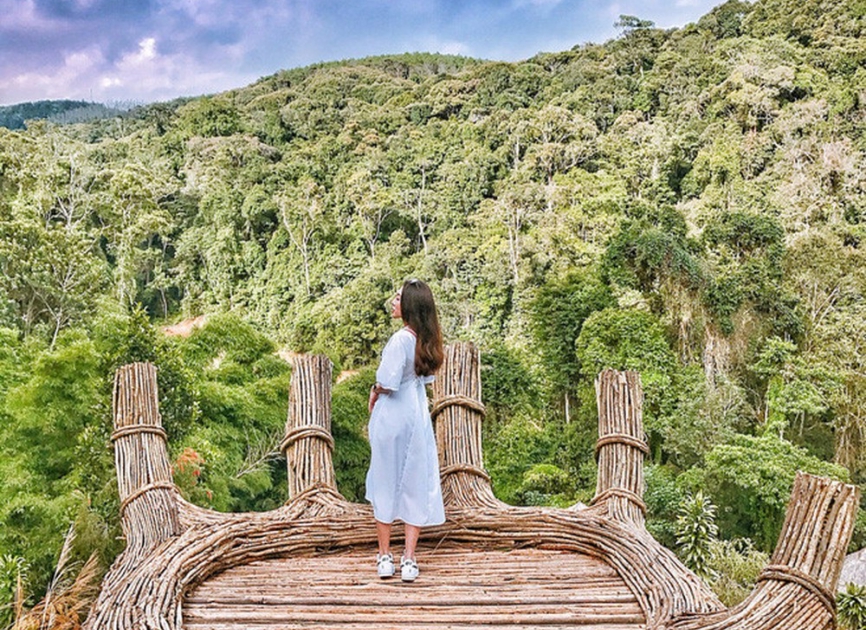 Photo: Baomoi