Best Hanoi Dishes

Hanoi boasts a very rich food scene. Its diverse cuisine reflects beautifully from the world class soupe of Pho or distinctive Cha Ca. However, Hanoi has more than that to complete your Asian foodie experience.
To unearth the tasty foods of Hanoi, it may take a week or even a month. However, these 20 best Hanoi dishes could be something you can sample during your trip
Pho Bo ( Noodle with Beef )
Pho Bo does not have the origin from Hanoi but it has gained the reputation here.
A mixture that consists of steamed beef broth, rice noodles, scallions and onions is what we call Pho Bo. To make it more exceptional, this Viet dish is topped with a pinch of cilantro and multiple cuts of beef. If you order for Pho Bo, don't get surprised once it is served with fresh bean sprouts, mint, jalapeno slices, pickled garlic, fish sauce and basil. These are its perfect add ons.
If you fancy a food that defines Hanoi`s taste, Nem Cua Be is one of them. It is a delicious version of spring roll with the mixture of all the fresh ingredients including menths, herbs, mushrooms, vermicelli and crab.
Made from grilled fish, Cha Ca is considered as a dish every foodie must try while in Hanoi. Its preparation starts with deboning the fish, cut into pieces and season it with turmeric and dill. Then wrap the seasoned fish in banana leaves to grill it over a charcoal fire. It is later cooked for the second time in a skillet full of green onions and dill.
Pho Ga ( noodle with Chicken )
Many people think that Pho Bo and Pho Ga shares the same base - the soup or broth. They are actually not. Pho Ga`s main soup is cooked from Chicken.
It is a popular choice to complete a quick meal and served all the day as wel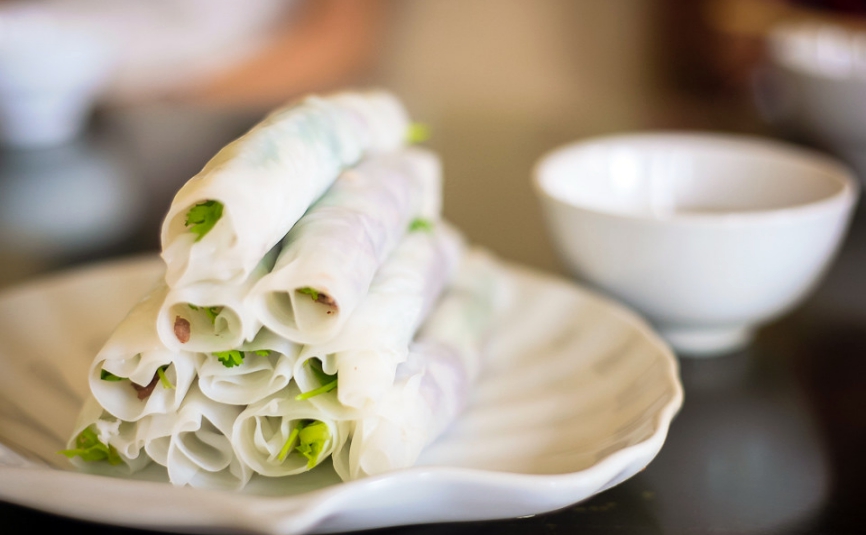 Photo: Mr.Zero -flickr.com
Pho Cuon carries all ingredients used in Pho but what misses is the broth. It is made by rolling up strips of grilled beef and some herbs like basil, mint and cilantro in a wide rice paper. You can't use a spoon or chopstick when eating these rolls. Instead, you just dip them in a bowl of nuoc cham.
Before you leave Hanoi, make sure to sample Pho Chien Phong. It is mainly composed of square noodles that are deeply fried to puff into donuts. After, these donuts are covered in gravy, beef and sauteed vegetables.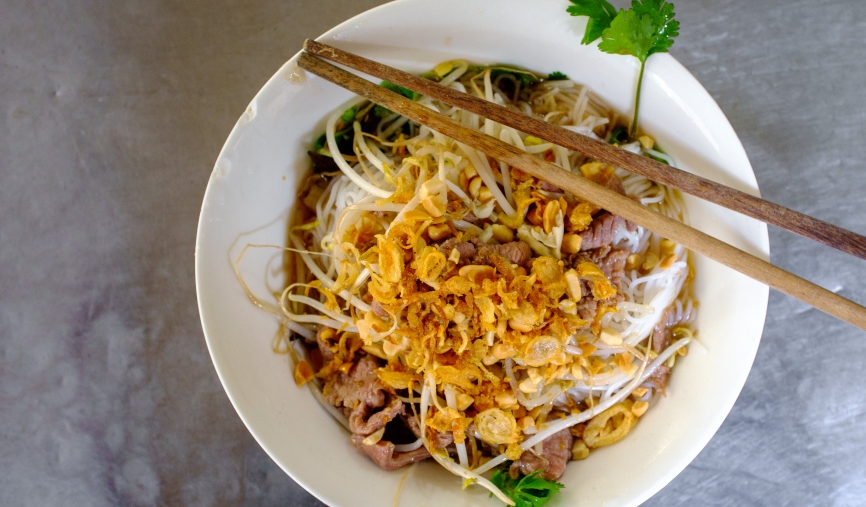 Photo: flickr.com
The name of this food leads to the fact that many people think it is from the south Vietnam. In fact, Bun Bo Nam Bo was created by a woman in Hanoi who love the southern version of Noodle without broth. The layered dish is made of vermicelli noodles covered with bean sprouts, fried onions, peanuts and grilled marinated beef all soaking in a bowl of fish sauce. The sauce is mixed with lime juice, chili, sugar and garlic for an engaging flavor smell.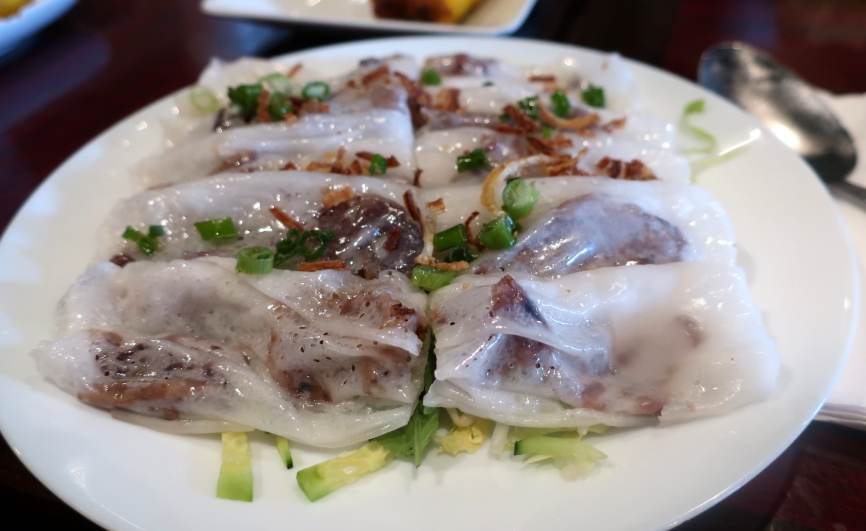 Banh Tom in Westlake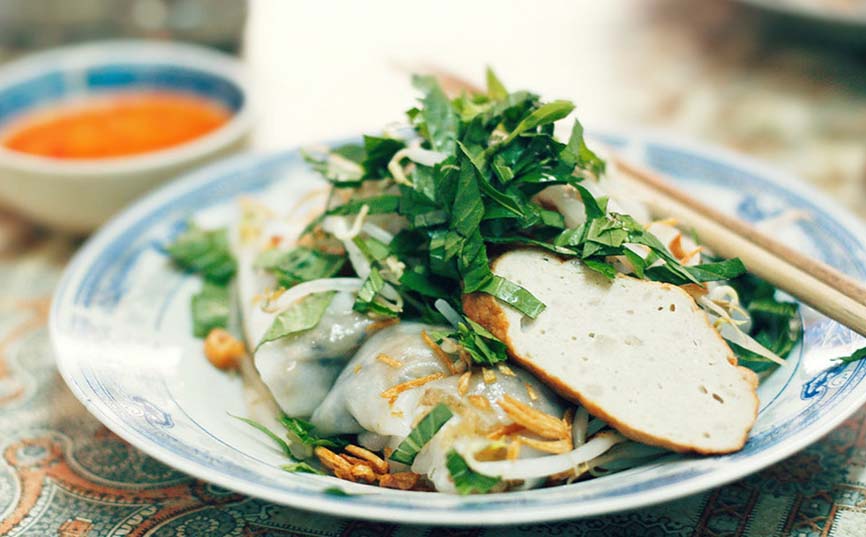 Typically, banh cuon is filled with a mixture of seasoned ground pork, mushrooms, and minced shallots. Sometimes, it may also include other ingredients such as shrimp, bean sprouts, and fried onions. The filling is placed on the rice batter, and the roll is then folded or rolled up.
Most culinary adventurers rate Pho as the best Viet dish, but Bun Cha is another secret that deserves a try. It includes pork meatballs, grilled fatty pork and pickled vegetables that are served in a bowl of nuoc cham. Apart from vermicelli noodles, other components you can serve with Bun Cha are sliced chilli peppers, fresh herbs and lettuce leaves.
If you are a fan of rice, Xoi Xeo is a must for you. When you cook glutinous rice with turmeric powder and mung bean, the result is what is termed as Xoi Xeo. This sticky output is further topped with deep-fried shallots and a drizzle of liquid fat. Other toppings include fermented hard-boiled eggs, pork belly or grilled chicken.
Nom Bo Kho (Green Papaya Salad with Dried Beef)
When you talk of Nom Bo Kho, it is nothing else but just the tasty green papaya salad that is topped with dried beef. Beef is first soaked in a mixture of salt, garlic, ginger, chilli and sugar to give it a spicy flavor before it is dried in an oven.
Bun Dau Mam Tom (Noodle and Tofu with Shrimp Sauce)
Not everyone should and can try Bun Dau Mam Tom. It has pretty strong smell.
Are you a Vegetarian? Bun Dau Mam Tom is a dish you should start with. Not like other Vietnamese dishes, Bun Dau is made up of three main parts including the vermicelli rice noodles (stuck together in a big flat pancake and cut into small pieces), squares of tofu and the stinky bowl of fermented shrimp sauce.
For all those who prefer chicken than meat, the Barbecue chicken in Hanoi is awesome. The chicken street is the best location for this. Different stalls offer various chicken parts you can choose from including chicken wings, feet, liver, chicken breasts to name but a few. You can serve it with barbecue sweet potatoes mixed with cucumber slices, vinegar and chili sauce.
Mien Luon is a popular Vietnamese dish that consists of eel (specifically freshwater eel) and glass noodles. The eel is usually stir-fried or grilled and then served over a bed of transparent glass noodles, creating a delicious and unique combination of flavors and textures. Mien Luon is particularly famous in northern Vietnam, especially in Hanoi, where it is often enjoyed as a specialty dish
Most food addicts consider Banh Mi as one of the highlights for any food trip to Hanoi. It is made out of different ingredients such as pate, toasted French baguette, mayonnaise, coriander and pickled vegetables. To make it more appealing, it is sidelined with a choice of fried eggs, pork floss and barbeque pork.
This is used more as a dessert than a beverage. Egg coffee is a mixture of coffee, milk and an egg York. Its original version was pure of coffee and an egg York but later modified with the addition of sugar, cow cheese and condensed milk. This unique recipe is now common at most coffee shops in Hanoi.
Banh Ran (Vietnamese Donuts)
Traditionally filled with mung bean paste and covered with sesame seeds, Banh Ran are little balls of fried glutinous rice flour. Its name means fried pastry and these donuts are widely sold by women who wander around the Old quarter.