Vietnam in luxury style

Experience Vietnam like never before with our exclusive luxury tour package. Indulge in opulent accommodations, private transfers, gourmet dining, and curated VIP experiences, as you immerse yourself in the rich culture, breathtaking landscapes, and warm hospitality of this captivating destination. Let us redefine luxury travel as you create lasting memories in the lap of indulgence and refinement.

Tour duration: 11 days / 10 nights
Travel Spots: Hanoi, Halong Bay, Nha Trang
Transport: flight, cruise, train
Price: from $ 2444/ pp


ITINERARY
Embark on a lavish 11-day itinerary through Vietnam, where luxury meets adventure. From the bustling streets of Hanoi to the serene landscapes of Sapa, and from the majestic beauty of Halong Bay to the cultural charm of Hoi An, indulge in opulent accommodations, exquisite cuisine, private tours, and VIP treatment at every step. Immerse yourself in the rich history, natural wonders, and warm hospitality of Vietnam, as you create unforgettable memories in the lap of luxury.
Arrive to Noi Bai international airport, you are welcomed by our staff and then head to the hotel for check-in. Spend the rest of your day for leisure and recover energy after a long flight.
Today we spend full day to discover Hanoi capital city. Kick off your morning with a visit to Hanoi old quarter area, a maze of narrow streets brimming with shops, markets, and traditional Vietnamese architecture. Lose yourself in the lively atmosphere as you stroll through the bustling streets, taking in the sights, sounds, and enticing aromas of street food stalls. Next, delve into Vietnam's rich history with a visit to the Ho Chi Minh Mausoleum. Pay your respects to the revered leader and explore the surrounding Ba Dinh Square, an important historical and political landmark. Adjacent to the mausoleum, you can also visit the Presidential Palace and Ho Chi Minh's stilt house, offering a glimpse into the life of the iconic leader. Continue your exploration with a visit to the Temple of Literature, Vietnam's first university and a testament to its intellectual and cultural heritage. Wander through its serene courtyards, admire the traditional architecture, and learn about the importance of education in Vietnamese society. No visit to Hanoi is complete without a stop at the iconic Hoan Kiem Lake. Legend has it that a magical sword was returned to a mythical turtle here, and the lake continues to be a symbol of peace and tranquility. Take a leisurely stroll along its shores, visit the Ngoc Son Temple nestled on a small island, and soak in the serene atmosphere. Indulge your taste buds with a lunch of authentic Vietnamese cuisine at a local restaurant. Sample delicious dishes like pho, banh mi, or fresh spring rolls, savoring the unique flavors that have made Vietnamese cuisine renowned worldwide. Conclude your day with a cyclo ride, a traditional Vietnamese bicycle rickshaw, through the charming streets of Hanoi. Sit back, relax, and soak in the lively ambiance as you pass by French colonial buildings, vibrant markets, and colorful pagodas. As the day draws to a close, reflect on the captivating experiences and vibrant energy of Hanoi. This 1-day tour offers a glimpse into the heart and soul of this remarkable city, leaving you with unforgettable memories and a deep appreciation for its rich history and cultural heritage. In evening, we catch a train to Sapa. Overnight on train (private A/c cabin with soft sleeper)
Your train arrives Lao Cai city at 5.40 AM. Your tour guide will welcome you at the train station with your name board and we drive to Sapa (40 mins). Experience the change of nature and climate while you going up a high mountain....
Accommodation
All hotel nights (overnight on train/cruise per itinerary)
Meals:
All breakfasts and lunches in tour days
Transport:
Private car with A/C, domestic flights
Travel team:
Private tour guide, private drivers
Experiences
10 unique travel experiences >>
Visa Arrangement :
We`'ll help you to arrange the visa
International Flights
Flights to/ from the destination
Travel Insurance
For the time you travel
Meals not included in the itinerary
Drinks and meals not mentioned
Personal Expenses :
Shopping or personal purchases

Book this tour/ Personalize it your way
To get the best price of this tour, please procced your booking. Our tour expect will get back to your with our best offer and details.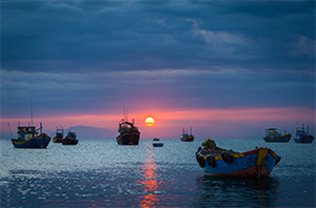 Hanoi Halong Bay 4 days
A glimpse of Hanoi and Halong Bay could be a perfect treat for first visitors to Vietnam. Our tour shows you the most highlighted attractions and activities that both Unesco Heritage sites have to offer.